by
Daniel Pipes
Note the pattern of Palestinians who murder the groupies and apologists who join them to aid in their dream of eliminating Israel.
Angelo Frammartino, an Italian, was killed by stabbing in eastern Jerusalem in August 2006 by someone affiliated with Palestinian Islamic Jihad.
Juliano Mer-Khamis, who appears to have been an Israeli citizen, killed in early April 2011 in Jenin by persons unknown.
Vittorio Arrigoni, another Italian, killed in recent days in Gaza by a Salafi group holding him hostage.
(Readers are invited to send in further examples; and this list will be updated as needed.)
Comments: (1) These murders neatly sum up the frenzy and depravity within Palestinian society, surely the sickest on earth, what with its suicide factory, its celebration of terrorists, and its cult of death. (2) Consistent with this morbidity, it also devours its admirers. (April 15, 2011)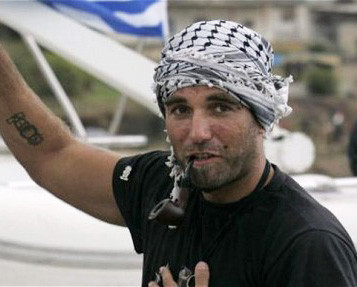 Vittorio Arrigoni, an Italian would-be Palestinian.
Original URL:
http://www.danielpipes.org/blog/2011/04/palestinians-murder-their-supporters
Daniel Pipes
Copyright - Original materials copyright (c) by the authors.